These Local Community Gardens are in Full Bloom!
The growing trend toward locally-sourced produce has led to a rise in community gardens popping up in and around the city of Atlanta. For people with limited green space of their own, a community garden is an ideal way to learn a new skill and have access to fresh produce.
Community gardens originally got their start in urban areas where green space was limited. A neighborhood of people would come together and create a garden to share. But there are many other reasons to start a community garden. Some are purposed solely for donating food, some for individuals to be able to grow plants of their own, and others for educational purposes.
How it Works
Community gardens are shared green spaces, typically run by the city's parks and recreation department or other organization. Volunteers may also help to maintain and monitor the grounds. Most public community gardens are divided into assigned plots that are leased to members of the community interested in learning about or growing their own plants.
Individual gardeners leasing plots are responsible for maintaining and harvesting their plants. While most community gardens have certain rules (i.e. avoiding the use of pesticides), gardeners have the choice when it comes to what to plant and how to do it.
Depending on the purpose of the garden, not all allow individuals to lease plots and instead maintain the garden as a way to provide food for donations while educating the community on gardening. Some organizations even offer classes for beginners and other events.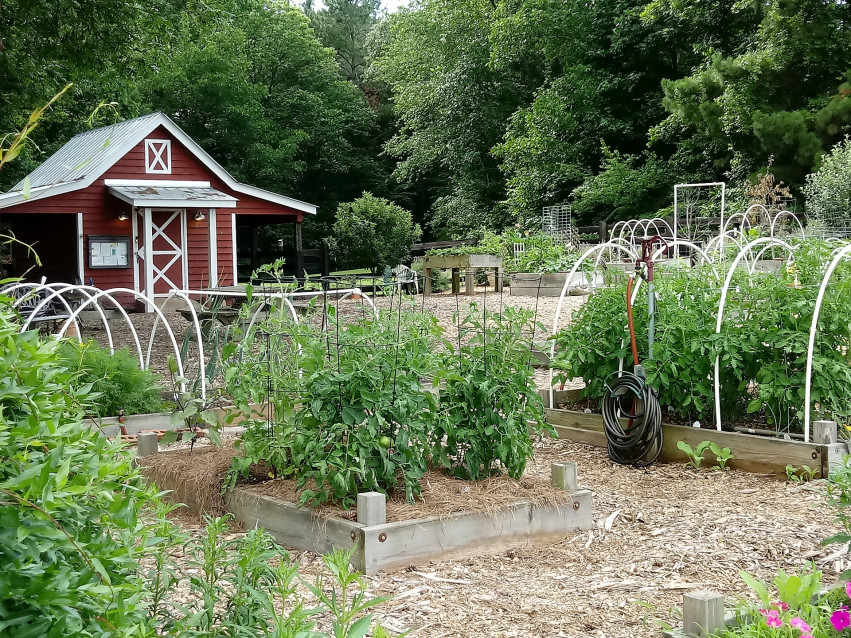 Getting Involved
There are many ways to get involved with community gardening beyond planting and maintaining a garden of your own. Here are a few ways:
Volunteer

Take a class

Purchase produce/plants harvested by local community gardens

"Sponsor" a plot
Perks of a Community Garden
There are many benefits to joining a community garden, like access to local produce and a chance to get to know your neighbors. Symbolic of the communities that care for them, community gardens also bring a sense of pride to the communities in which they flourish.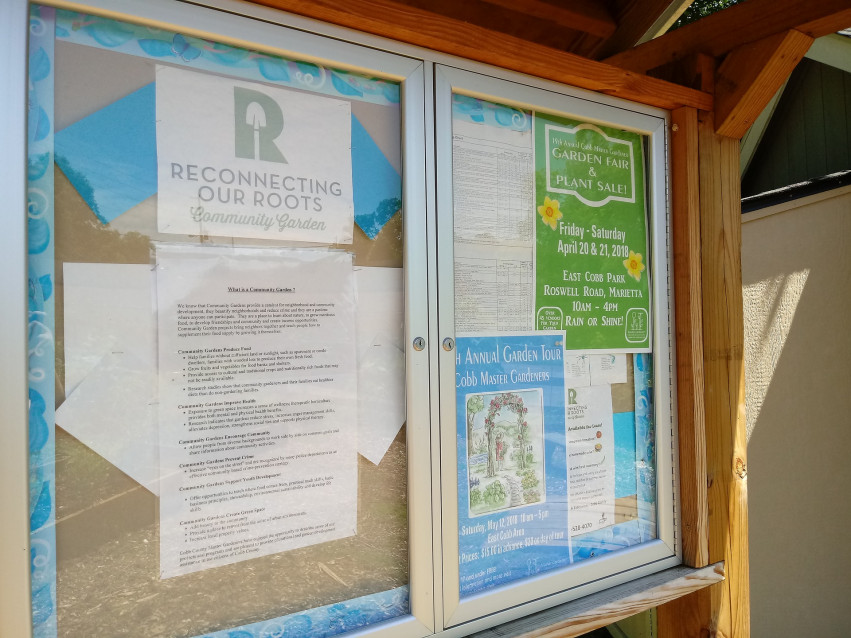 Whether you're a seasoned gardener or a beginner, being a part of a community garden can help you work on your gardening skills while creating a sense of pride in yourself and your community.
Gardening is also an excellent form of exercise and a mood booster. According to the CDC, gardening is considered to be a "moderate cardiovascular exercise." Gardening just 30 to 45 minutes a day can burn 150 to 300 calories when you consider weeding, digging, hoeing, raking and planting.
Community Gardens in the Atlanta area
Check out these local community gardens open to the public. Additional information on community gardens in your area can be found through the American Community Gardening Association (ACGA).
Hyde Farm Community Garden
Hyde Farm features over 40 4x8 ft. raised bed plots that include two beds for handicap spaces and two free of charge to veterans. Plots are $50/season, which runs from March 1 through February. In addition to leasing plots to the public, this East Cobb community garden also holds free educational programs. Master Gardeners and volunteer help from Boy Scouts and surrounding schools and colleges have made Hyde Farm a successful, thriving community garden. Plots can be leased by contacting Master Gardener Randy Threatte at 404-431-3112.
Address: Hyde Farm Community Garden, 726 Hyde Road, Marietta GA 30068
Our Giving Garden
This 100% volunteer-run garden provides classes, volunteer opportunities, social events and green space for community members to enjoy. All food grown in the garden is donated to local families in need, and while they don't offer plots for lease, they do offer raised beds for sponsorship. Visitors to Our Giving Garden can enjoy walking trails, a kid's area, and a little free pantry. There are also annual events open to the public. If you'd like to volunteer or get involved, contact Judy Byler at 770-779-5058.
Address: 75 Cooper Lake Road SE, Mableton, GA 30126
Mulberry Rock Park Community Garden
As Paulding County's first public community garden leasing space to local gardeners, this community garden is located in the new park off of Mulberry Rock Road in southwest Paulding. The garden features a total of 29 garden beds. Community members can lease plots for an annual fee of $20 for a 4x8 foot space, or $30 for an 8x16 foot space. Contact Paulding County Parks and Recreation at 770-445-8065 for more information on leasing plots.
Address: 1849 Mulberry Rock Road, Dallas, GA 30157
Woodstock Community Gardens
Part of the Woodstock Parks and Recreation Department, the Woodstock Community Gardens are located off of Dobbs Road, just east of Chattahoochee Technical College. Plot Registration fee is $50 per year for a 20x20 foot plot, and $25 per year for a 10x10 foot plot. Plots for the 2018 season are already reserved, but applicants can apply again next April. To reserve plots for next season, contact the Paulding County Parks and Recreation at 770-517-6780.
Address: Dobbs Road, adjacent to Chattahoochee Technical College
Green Meadows Preserve Community Garden
This community garden was established in 2012 as a joint project between the Cobb County Parks and Recreation Department and the Cobb County Master Gardeners. It features over 50 raised beds for lease to the public. In addition to leasing plots, Master Gardener Volunteers of Cobb County also hosts garden tours and horticulture classes. The garden is part of the Green Meadows Preserve, a 112-acre park designated as a historical and educational interpretive Site on the Trail of Tears Historic National Trail. Also on the grounds is a Bluebird nesting site and 2.3-mile walking trail. Information on plot leasing can found on the Green Meadows Preserve website.
Address: 3780 Dallas Highway, Marietta GA 30064