The Charm of Georgia Christmas Tree Farms
It's hard to deny the charm and aroma of a real Christmas tree. For many, it's a family tradition. From picking out the perfect tree to decorating it, the whole experience is full of nostalgia and joy.
Thankfully, you don't need to take a "Christmas Vacation-esque" trip out into the woods to cut down a tree. Christmas tree farms provide families the experience of cutting down their very own tree without the hassle of venturing out into an open forest.
Visiting a local Christmas tree farm is the best way to get the freshest tree, while supporting the local community.
If you've never experienced the allure of visiting a Christmas tree farm for the holidays, there are a number of farms right here in the Atlanta area that are ideal for seekers of that perfectly trimmed, green, aromatic tree.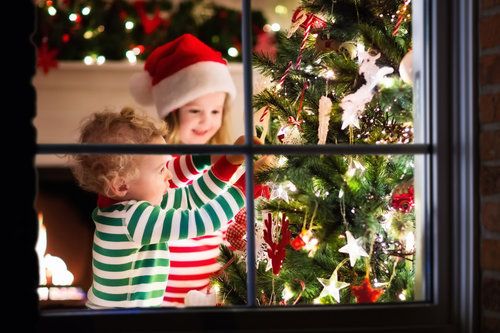 When to Go
While it's tempting to head out to the tree farm as soon as the last trick-or-treater leaves your doorstep, you want to be sure your tree makes it to Christmas Day.
Experts recommend the best time for cutting down a Christmas tree is early December. Most cut trees will hold their needles for 3-4 weeks, so keep that in mind when planning your visit to the local Christmas tree farm.
Many farms sell out by mid-December. Be sure to always call ahead to make sure trees are still available.
What to Expect
Most Christmas tree farms offer the option to "choose and cut" a tree or purchase a pre-cut tree.
Some varietals like the popular Fraser Fir are not native to Georgia and are only offered as pre-cut trees while others like the Leyland Cypress grow naturally at most Georgia Christmas tree farms. This is important to keep in mind if you have a varietal preference.
Pricing: Some farms will tag trees with pre-set prices while others sell trees based on price per foot.
Measuring: Most farms have a way to measure trees on location, but bring a measuring tape to check the height and width to ensure you choose a tree that fits your space.
Cutting: Some farms provide hand saws or rent them for a fee; some require you to bring your own. Work gloves for handling the tree are also recommended.
Transporting: To safely bring your tree home you'll need rope, bungee cords, and a sheet of plastic/cloth covering to protect the roof of your car.
Services: Bailing is typically a complimentary service while hauling and delivery are not.
Before visiting any Christmas tree farm, call first to ask about selection, hours of operation, and services offered.
How to Choose
There are several varietals of evergreen trees grown in Georgia, each with varying characteristics. No matter what tree you choose, it's important that it is fresh. Some things to look for to ensure the longevity of your tree include:
Color: the tips of the branches should not be brown or yellow
Smell: there should be a strong earthy smell of sap
Flexibility: the branches should bend, not snap
Durability: needles should not fall from the tree if shaken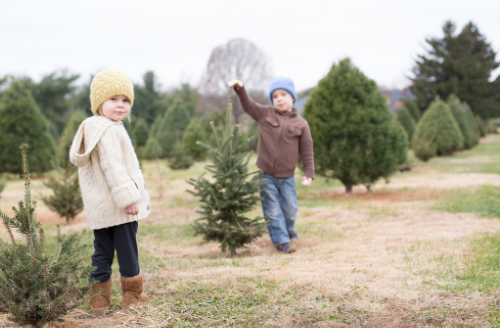 Caring for your Tree
Once home, cut about a 1-inch slice from the bottom of the tree trunk so that the tree can more easily absorb the water from the tree stand. Next, fill the tree stand with about 1 quart of warm water and get the tree in the water as soon as possible. Be sure to keep water in the tree stand at all times to avoid drying out.
When decorating, choose LED lights that won't get too hot and ornaments that aren't too heavy or damaging to the branches.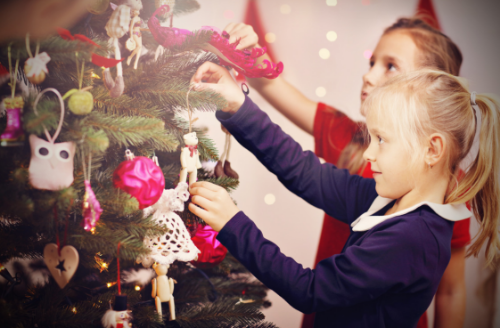 Christmas Tree Farms to Visit this year
Each Christmas Tree farm will have its own dates, hours of operation, and selection of trees. Many farms will also sell seasonal refreshments and holiday décor in addition to Christmas trees. Here are a few local favorites. If you need more information on other Georgia-based farms, the Georgia Christmas Tree Association has a "Farm Finder" page on their website.
Sleepy Hollow Farm
628 Sleepy Hollow Road
Powder Springs, GA 30127
This family-run farm has been planting, pruning, and selling Christmas trees for almost 40 years. Visitors have the option to cut their own tree or choose from a fresh-cut Fraser Fir. All trees are individually priced. Varietals offered include the popular Leyland Cypress, Virginia Pine, and Carolina Sapphire. There's also a country store and farm complete with chickens, goats, horses, and more. Visitors might also recognize this farm featured in several scenes from the popular Netflix series, Stranger Things. Hours of operation: closed Mondays, open noon-6 p.m. Tuesday through Friday and 10 a.m.-6 p.m. on weekends.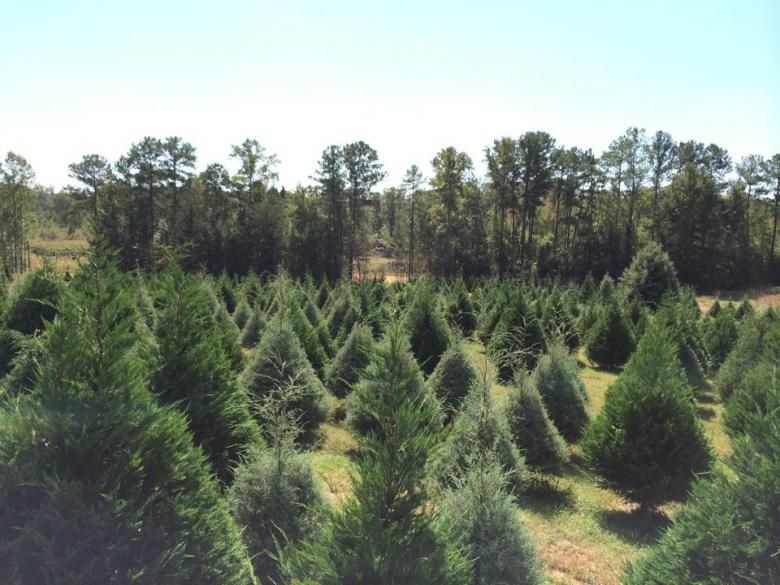 Berry Patch Farms
786 Arnold Mill Road
Woodstock, GA 30181
Berry Patch Farms began as a blueberry farm. In the 1980s, the family planted their first Christmas trees. The farm now features Leyland Cypress trees and pre-cut Frasier Firs, in addition to pre-made wreaths and garland. Visitors will be provided with a saw, so no need to bring your own! And after choosing a tree, there are picnic areas and a barnyard to visit. The farm also has seasonal refreshments for sale. Berry Patch Farms is open from 10 a.m.-6 p.m. on weekends and 3 p.m.-6 p.m. on weekdays
As a family-run business for over 20 years, Hunter's has hundreds of trees to choose from, including Leyland Cypress and Murray Cypress. Fresh-cut Fraser Firs are also available. To cut your own, the price starts at $6/foot, while the pre-cut Fraser Firs start at $8/foot. Wreaths, white pine garland, and tree stands are also available for purchase. Complimentary hot chocolate and marshmallows are included. Even better, kids can visit with Santa every Saturday from 11 a.m.-2 p.m. during the season. Hunter's opens the day after Thanksgiving. Hours of operation are 9 a.m.-dusk on Saturdays and 4 p.m.-dusk Monday through Friday, closed on Sundays.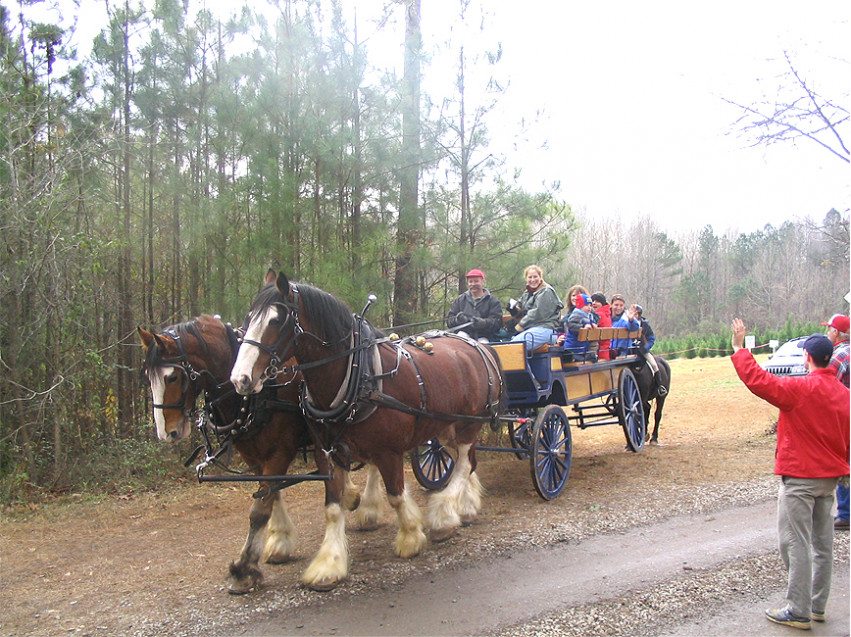 Coker Tree Farm
2280 Macland Road
Marietta, GA 30064
Coker Tree Farm has been a family-run business for almost 40 years. Like other Christmas tree farms in the area, Coker offers both fresh pre-cut Fraser Firs and a wide selection of choose and cut trees. This year, visitors to the farm can choose from Murray Cypress or Carolina Sapphire varietals. If you choose to cut your own tree, there's no need to bring your own saw as they provide them at no charge. Shaking and bailing are also complimentary services. To commemorate your trip, visitors receive an annual ornament that comes complimentary with your tree purchase. Coker Tree Farm opens on Friday, November 23rd at 9 a.m. Hours for the 2018 season are Monday through Friday, 4 p.m.-6 p.m. and Saturdays and Sundays from 9 a.m.-6 p.m.